Understanding the Consumer Protection Act: Safeguarding Consumer Rights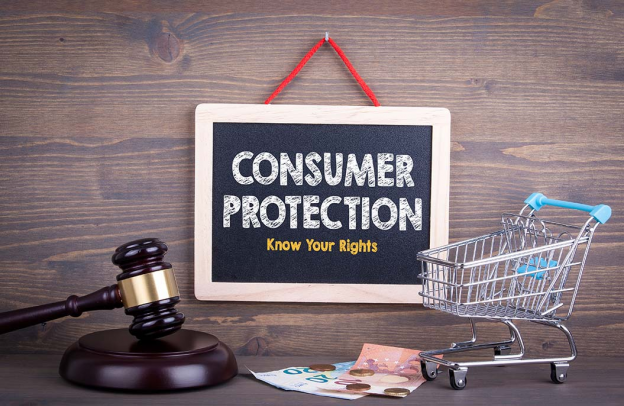 November 7, 2023
Ever since the introduction of the Consumer Protection Act the phrase "Buyer be aware" seems to have transformed into "Seller be fair" This change has given consumers more power and assurance that their rights are fully protected when they make purchases and make transactions with sellers.
Enacted in 1986, the Consumer Protection Act was the foremost legislation that was brought in and implemented by the Central Government in India to safeguard and protect the rights of consumers.
According to section 2(7) of the Consumer Protection Act a consumer is an individual who purchases or sells goods or services for consideration- either paid or promised or partly paid or partly promised, for use other than for a commercial use or resale purpose. In this blog, we will be delving into a comprehensive explanation of the Consumer Protection Act. Additionally, we have recommended some books on Consumer Protection Act in this blog to help you enhance your understanding further.
Why is there a need for enacting a Consumer Protection Law?
The need of enacting the Consumer Protection Act was to protect consumers from unfair trade practices. India's economy was growing and then commercialisation led to a boom in the market, wherein consumers were being ill-treated, misled and unfair trade practices saw a rise. Another need of the Consumer Protection Act was to empower consumers by giving them a legal backing to combat unfair trade practices, and misleading statements by the sellers.
What are various Consumer Rights?
Right to Safety:
Means having the legal right to be shielded from the products and services that endanger life and property. The products and services obtained should serve their long-term interests as well as their present requirements. Customers should demand both the product quality and the warranty of the goods and services before making a purchase. They should preferable buy high-quality and purity of the products should be maintained with labels like ISI or AGMARK or Hallmark.
Right to Choose:
Consumers have the right to choose and purchase a variety of goods, services, or both at reasonable costs because of the right to their choice. They cannot be coerced into purchasing a good or a service nor they can be forced to select a particular brand. Consumers can choose any brand that best suits their interests.
Right to Information:
Under the Consumer Protection Act, 2019 ("Act"), Indian Consumers have 'Right to Know' or "Right to be Informed" about the Products/services they want to buy with the help of 'accurate and transparent' information. Which the consumer has the right to; to informed choice; to be protected against unfair trade practices; and to hold trading entities to account for their behaviors.
Right to Consumer Education:
To prevent being taken advantage of, consumers should be aware about their rights. They may pay even more as a result of their ignorance. Consumers have the right to acquire the necessary knowledge and abilities required to become a lifelong informed consumer. The main cause of their exploitation is ignorance of the laws, the remedies, prevailing rates etc. especially among rural people.
Right to be Heard:
The consumer redressal system is what preserves the rights of customers to make their demands heard, share their perspectives, and demand satisfaction from injustice or dissatisfaction. The Right to be Heard enables customers to voice their opinions about the products/services used, they can express their concerns, lodge complaints and request appropriate remedial action if any grievance is faced.
Right to seek compensation:
It's a crucial right which enables buyers to get their money back in case of getting bad products or bad quality services. The seller/manufacturer/service providers must indemnify the consumer for any injury, damages and financial loss caused due to their act or negligence.
Responsibilities of a Consumer
1. Awareness:
Consumers must realize that buying any product or service is an active decision that they take and this demands some due-diligence on their part in terms of knowing what level of safety assurance would be required from what you are purchasing. Customers' primary duty when making purchases of durable goods is to maintain copies of the receipts or other proof of purchase. Consumers should also be aware of the legal rights and remedies in case they face some issues or legal concerns.
2. Exercising their rights responsibly:
Consumers must use their rights reasonably and responsibly and so as not to harm another. E.g., a consumer shall not launch a false/frivolous complaint against the seller.
3. Ensuring to see the quality and safety of products and services:
Consumers need to be mindful of the quality and safety of the products they buy. By not compromising on quality consumers can play a role, in addressing the issue of counterfeit and low quality products. When purchasing goods or services it is important for consumers to seek out quality certifications, like ISI and Agmark.
How can a Consumer file a Complaint?
The Department of Consumer Affairs, Ministry of Consumer Affairs, Food & Public Distribution has established the National Consumer Helpline portal named as "Integrated Grievance Redressal Mechanism- INGRAM" for consumers wanting to report their complaints.
Gather Documentation
To file a consumer complaint, the first necessary step is to accumulate all essential paperwork. This includes the following: Copy of proof of purchase (the bill), communication between the buyer and seller or service providers — whether email, letter, or additional documentation you have in support of your case, such as photographs, videos, or anything else.
Reach Out to the Seller/ Service Provider for Problem Resolution.
It's often worth giving the store owner/service provider a chance to fix things informally before making a formal complaint. You can do this by calling, sending an email or in-person communication. Be concise with your message and inform them what is wrong. If the seller or service provider is not willing and/or able to fix your problem; go on to the following step.
Approach Consumer Helpline
In case of any grievance against the seller or service provider, you may not be able to address the same with them and you may need to approach the Consumer Helpline for redressal. They will also guide you as to how to lodge a complaint in the right consumer court.
Lodge a complaint at the required consumer forum.
There are three tiers of consumer forums in India: District, State and The National Consumer Commission. For claims less than equal to 1 crore, you have to go the District Consumer Forum. If your claim being of Rs.1 crore and upto 10 crore, then you have to file a complaint with the State Consumer Forum. In case of claims above INR 10 crores please approach National Consumer Commission to lodge a complaint.
After filing your complaint, the consumer court shall fix the hearing date to settle consumer disputes. In the hearing you are given a chance to tell your side of the story. The court also gives the service provider/seller an opportunity to respond to it. Once the consumer forum has heard from both parties, they will decide on what the decision is. In case consumer forum rules in your favour, you can obtain compensation/ refund, or a replacement product/ service.
Features of Consumer Protection Act
Legal Framework
This act was enacted under Consumer Protection Act, 1986 (CPA), which is an exhaustive legislation designed to safeguard consumer's rights within India. It was established with the purpose of providing affordable and speedy justice to consumer complaints. The Act is applicable on any Goods or Services, subject to exemptions specified by the Central Authority.
Consumer Forums
The CPA introduces the three tier-consumer refund framework comprising District Buyer Courts of law, State Buyer Complaints and the Public Shopper Gripe body. If any consumer faces an injustice during buying things or service, then he has the right to fill up his complains into these forums directly.
Consumer Complaints
Individual consumers, as well as consumer organisations, can address complaints towards specific businesses/services. This complaint has to be in writing and nowadays, INGRAM portal is there and you must include all pertinent facts; the name and address of complaining party, the name and address of the seller or service provider, the date of purchase, what the problem is about, and the relief.
Jurisdiction and Remedies
The Consumer Protection Act, 1986 has introduced three-tier consumer grievance redress mechanism, which consists District Consumer Forum, State Consumer Commission& National Consumer Commission. If consumers feel aggrieved by the sale or provision of goods and service, they can make complaint with these forums.
Penalties
On violation of S. 90 (1) and S. 90 (2) of the Consumer Protection Act, there is an attribution of penalty for producing, possessing, offering for sale adulterated or spurious goods.
If it's found that the products are adulterated and there's no harm caused, you may get up to a fine of Rs. 1lakh or even six months of imprisonment for that matter.
For any harm caused but not resulting in injury there is also a fine of up to Rs. 20 lakhs. In case someone inflicts harm they may face a summons with penalties as 5 lakhs and, up to seven years' imprisonment. If someone fails to comply with the National, State or District CDRC they could face one month in prison and a possible extension of, up to three years. According to section 89 any manufacturer or service provider who publishes a misleading advertisement can be fined up to ten lakh rupees or 2 years in jail. A court can only take action, against offenses under sections 88 and 89 if a complaint under the CCPA or an authorized official designated by them.
Recommended Books to Deepen Your Understanding of the Consumer Protection Act
1. "Consumer Protection Act, 1986" by Universal's Concise Commentary:
This book on "Consumer Protection Act, 1986"  by Universal's Concise Commentary is a comprehensive and well written guide to the consumer protection law in India, with analytical case law readings. It is a valuable resource for students, lawyers and professionals who want to understand and know more about their consumer rights.
2. "Commentary on the Consumer Protection Act" by Dr J N Barowalia:
This "Commentary on the Consumer Protection Act" by Dr J N Barowalia provides an insightful analysis of the new Consumer Protection Act, 2019, which repealed the Consumer Protection Act, 1986 along with incorporating notable decisions of the Supreme Court and High Courts. The commentary also sets out the structure of the legislation and covers the fora of regulation of disputes and the formalities necessary for invoking the jurisdiction of the tribunals.
3. "Key to Consumer Protection Law Practice & Procedure" by Narender Kumar:
The author was the Addl. District & Sessions Judge, Delhi. This practical handbook "Key to Consumer Protection Law Practice & Procedure" by Narender Kumar covers the necessities, procedures and protocols involved in resolving disputes, between suppliers and customers through consumer forums. These forums operate under the framework established by the Consumer Protection Act (CPA). It also includes detailed discussion of CPA, 2019 along with FSSAI Act, 2006 and Legal Metrology Act, 2009.
4. "The Law of Consumer Protection" by Shyam Padman:
Authored by the renowned author Shyam Padman, this book "The Law of Consumer Protection" is an informative guide with a focus on procedural aspects of the Act and case laws. It also has references of the Consumer Protection Bill of 2015 to let readers know about the proposed legislation after the 1986 Act.
CONCLUSION
The Consumer Protection Act, 1986 is a major legislative milestone enabling an otherwise inert consumer to stand up against unfair trade practices and substandard products or services. It also provides consumer redressal at three tiers which is very helpful in solving problems of the customers. With knowledge, alertness and change we move towards a better society. Because, for that to exist, you need agreement on both sides of the market between the producers and the consumers, and that's going to take goodwill all the way around. The Consumer Protection Act is specifically focused on safeguarding the rights and interests of consumers to ensure they receive treatment.
FAQs
1. What are the Consumer Protection act of 1986 and its features?
The act encompasses a range of goods and services spread across all consumer sectors. It also defines who is a consumer. The Consumer Dispute Redressal Commission oversees a three mechanism, for resolving consumer disputes. It also mentions the penalties and the remedies available.
2. Why is consumer protection important?
Consumer laws are essential in order for seller's service providers are regulated, so that consumer's interest may be protected against bad or unethical trade practices.
3. What is consumer protection under Indian laws?
India consumer protection refers to a bundle of legislation and laws that are meant to safeguard the interests of consumers. They apply in a number of areas such as safety, information, consumer choice, and redress.
4. Who is the father of the Consumer Protection Act?
The father of the Consumer Protection Act is Ralph Nader.
5. What is the latest Consumer Protection Act?
The recent enactment, for consumer protection is the 2019 Consumer Protection Act. This law includes provisions that aim to safeguard the rights and interests of consumers engaged in e- commerce. It introduces the concept of product liability.
6. What is the history of the Consumer Protection Act? 
In its present form, the civil justice system is so full of flaws. However, due to its cost effectiveness and backing of the government, the Consumer Protection Act of 1986 was introduced – for easy access to justice, resulting in a legal revolution within India. It has been amended three times: the first time, in 1991, second time in 2002, third time, most recently, in 2019.
Latest Blogs