Best Books on Criminal Law in India that you Must Have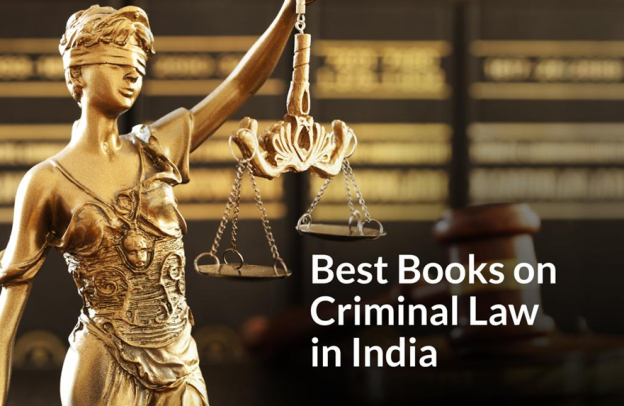 October 4, 2023
Criminal law is an essential part of the Indian legal system; there are different kinds of criminal laws in India that underline rules and regulations for ensuring proper enforcement of law and order, protecting individual rights, and ensuring justice. There are a lot of best books on criminal law that talk about different laws like the Indian Penal Code, Criminal procedures, narcotics, the information technology act, sexual harassment, and a lot more.
Before we talk about different criminal laws, let's understand why criminal law exists and its importance in India. Well-defined criminal laws help the country in protecting society, ensuring justice is given without any bias and victims are properly redeemed, protecting of individual rights during investigation and trials that are not subject to unlawful detention or punishment, and maintaining proper law and order in the country.
Why reading criminal law books is important
Reading criminal law books and staying up-to-date with the changing laws is pivotal for any aspiring law student, lawyer, legal practitioner (in any form), and judge. It is important for several reasons like understanding courtroom procedures, understanding different types of criminal laws and punishments suitable for different offences, improving legal skills, identifying the gap between truth and lies, and providing justice without any bias.
LexisNexis® library has some of the best books on criminal law that can help aspiring lawyers and legal professionals like you to improve your legal skills. Reading criminal law books can help develop legal research and writing skills, as well as analytical and critical thinking skills that are important for your career in law. Read on to know the different kinds of Criminal laws in India.
1. Indian Penal Code (IPC)
The Indian Penal Code (IPC) is the primary and official criminal law code of India. It is a comprehensive code that covers laws against all major crimes like murder, rape, theft, fraud, forgery, bribery, sedition, promoting enmity between different groups, and insulting religious beliefs. This law is followed in courts all across the country and helps to punish criminal offenders for different offences listed in the IPC.
Best books on the IPC: check out some of our best books on the IPC
Our library of one of the best books on criminal law contains the latest editions of IPC law books and resources that can help you stay up-to-date with the changing laws and procedures for different crimes in the country. Some of the known topics covered in our books are offences against the state, public order, public servants, property, persons, and morality.
2. Criminal Procedure Code (CPC)
Established and came into force on 1st April 1974, the Criminal Procedure Code (CPC) is the main legislation governing criminal procedure in India. It is considered as the main legislation on procedure for the administration of substantive criminal law in India. It underlines the rules, regulations, and guidelines for conducting criminal investigations, trials & appeals, arrest procedures, and all kinds of documentation and processes involved in any criminal case processing.
Best books on the CrPC
With more than 65 billion documents that record from more than 45000 legal, news, and business sources, our online bookstore is your go-to place for getting the latest and best books on criminal procedure code and related topics in India. It can help you upskill and research for your case with all the latest information and laws and prepare better than the ones having limited access to legal resources.
3. Evidence Act
The Indian Evidence Act of 1872 was originally passed in India by the Imperial Legislative Council during the British Raj. This act underlines the set of rules and allied issues governing the admissibility of evidence in the Indian courts of law. It helps legal professionals, lawyers, judges, and law practitioners to understand the rules for the admissibility, relevancy, and weight of evidence in Indian courts that can be applied to all civil and criminal proceedings.
Best books on the Evidence Act
Our Best books on criminal law also include books on the Evidence Act of 1872 that talk about different categories such as oral evidence, documentary evidence, circumstantial evidence, and more. Our all updated books and resources can help you understand in-depth the governing procedures for the production, examination, and cross-examination of witnesses, as well as the admissibility of documentary and electronic evidence.
4. Juvenile Justice Act
The Juvenile Justice Act, as the name suggests is the criminal act that underlines the laws and guidelines for the care, protection, and rehabilitation of juveniles–children below 18 years of age, usually 16-18 years. It also specifies the procedures for handling cases involving juveniles, such as the procedures for arrest, bail, trial, and sentencing. This act came into force in 1986 and has undergone several amendments since then.
Best books on the Juvenile Justice Act
Our entire range of online and best books on Juvenile Justice Act can be your handy tool for upgrading yourself while on the go. Keeping yourself updated about different categories of offences that can be committed by juveniles, such as heinous offences, serious offences, and petty offences is now a piece of cake when you are learning with us.
5. Narcotics Control Bureau (NCB) Act
formed in 1985, the Narcotics Control Bureau (NCB) is the primary agency responsible for enforcing the provisions in the matters of drug law enforcement majorly including the Narcotic Drugs and Psychotropic Substances Act (NDPS). This law has gained a lot of prominence in India in the past few decades and helps to combat the illicit trafficking of narcotic drugs and psychotropic substances.
Best books on the NCB Act
Narcotics Control Bureau Act is one of the most important laws in India important laws in India that lays down the penalties for the production, manufacture, possession, and trafficking of narcotic drugs and psychotropic substances. Staying updated with all the latest rules, procedures, penalties, and narcotics case processes is easy with LexisNexis® online library that is not just readily available, but also gives you the power of AI-backed content that makes your research more effective and efficient.
6. Prevention of Money Laundering Act (PMLA)
Money laundering is the process of converting illegally earned large amounts of money into a legitimate source; the money usually comes from various heinous crimes such as drug trafficking, corruption, embezzlement or gambling, by converting it into a legitimate source. The Prevention of Money Laundering Act came into effect on 1st July 2005 and was subsequently amended in 2005, 2009, 2012, and 2018 to strengthen the legal framework for combating money laundering and terrorist financing
Best books on the PMLA
The Prevention of Money Laundering Act is an essential law in India that underlines various rules and penalties to prevent and combat money laundering and the financing of terrorism. Needless to say, this act is very crucial to safeguard financial security and stability in the country and our legal system plays a crucial role in helping the government to identify and penalize the culprits appropriately. our library has some of the best books on prevention of money laundering that can help legal practitioners to prepare better for their case and help increase the effectiveness of law enforcement agencies in combating these crimes.
7. Information Technology Act (IT Act)
Cyber crimes have exponentially increased over the last decade owing to the fast-paced digitization all around the world. The Information Technology Act, of 2000 is an Act of the Indian Parliament that was notified on 17 October 2000 that helps govern any kind of electronic communication, digital transactions, and cybercrimes in the country. Website or mobile Hacking, cyberstalking, identity theft, and cyberterrorism, are some of the top known cyber crimes for which this act lays down proper penalties and processes in place.
Best books on the IT Act
The Information Technology Act is an essential law in India that aims to provide a legal framework for electronic transactions and to combat cybercrimes. LexisNexis® library provides one of the best books on criminal law and the Information Technology Law that can help you upskill, be more confident, and do better research on your cases.
8. Prevention of Corruption Act (PCA)
Corruption is common in Indian and international borders that can involve public servants working at any level and any department in the government sector. Policemen, government regulators, diplomats, clerks, or any other government official can be involved in corruption. This is where the need for the Prevention of Corruption Act becomes all the more essential. The law helps in creating a framework to work on such cases and encourages a culture of integrity, transparency, and accountability in the system.
Best books on the PCA
The Prevention of Corruption Act empowers and supports the Central Vigilance Commission (CVC) of India to ensure the smooth functioning of public departments and maintain a higher level of authenticity across functions. This is a very sensitive and important subject for any law students and practising lawyers to study and stay updated on. Some of the best books on criminal law cover this topic and helps them remain updated on all the latest laws, rules, penalties, and processes which can be quite helpful.
9. Sexual Harassment of Women at Workplace (Prevention, Prohibition, and Redressal) Act
With the rising strictness of laws that help women protect themselves from different forms of abuse, harassment, violence, and biases at both work and personal life, the introduction of sexual harassment of women at the workplace has gained a lot of popularity in the last decade. Sexual Harassment of Women at Workplace Act is an important act that not just ensures the safety of women, but also uplifts the nation at a larger level. The PoSH or the Prevention of sexual harassment committee is a mandated body/committee that has to be formed in all public and private organizations across the country.
Best books on the Sexual Harassment of Women at the Workplace Act
We have some of the best books on criminal law that cover all the kinds of amendments in the Sexual Harassment of Women at Workplace Act that have taken place since its inception in 2013. Regular research and keeping yourself updated can lawyers and social service workers get justice for the victims and ensure there is no bias on the basis of their sex, religion, race, caste, sex, and place of birth.
10. Special and Local Laws
Local law is an area or territory specific while a special law is focused on a particular subject, unique case, or circumstances. These laws are considered a complete code that underlines guidelines for various special or local cases falling under these categories.
Best books on the Special and Local Laws
LexisNexis® library gives you an easy option to find all the latest resources, bare acts, and books for understanding the special and local laws, why these laws got introduced, and what kind of developments have happened in this category since its inception.
11. Cyber Law
The Cyber law framework under the technology act provides a framework that deals with different kinds of crimes and fraud related to the internet, computer systems, and cyberspace. Anything business related to e-documents that are given legal recognition under cyber law–and are covered with validation, and intellectual property rights–this law provides a structure for smooth functioning for and protection of all. This also includes companies dealing in the IT sector and dealing in any kind of electronic circulation of software, information, payments, or online shopping (e-commerce sites).
Best books on Cyber Law
Cyber law is a specific genre that talks about different kinds of cybercrimes that can affect anyone irrespective of their position, age, location, or profession. Our range of best books on cyber law covers a lot of topics including–cybercrimes, cyber laws, artificial intelligence in cyber crime, cyber security & child protection, fake news, cyber radicalization, cyber law approaches, and a lot more.
12. Intellectual Property Rights (IPR)
An intellectual property right is a right given to any individual or an organization for the creation of anything that has not been previously covered under the IPR Act and is unique and authentic. From any art-related work to any training material, books, brand logos, survey reports, and research papers to anything that has been created intellectually, comes under this category. There are four types of IPRs–trademarks, copyrights, patents, and trade secrets.
Best books on IPR
Different types of IPR can include patents, domain names, confidential information, databases of different kinds, commercial trademarks and secrets, business or trade names, commercial secrets, and more. Various editions on IPR and a collection of the IPR law books are easily available in our online bookstore–it is readily available for anyone looking to enhance their knowledge on IPR and related topics.
13. Human Rights
Human rights are basic human rights that are inherent to all human beings irrespective of their sex, colour, caste, religion, nationality, or any other demographics. Established in 1993, the Human Rights Act defines basic rights to human beings related to the liberty, equality, and dignity of each individual as enlisted by the constitution of India.
Best books on Human Rights
Understanding human rights is an essential requirement not just for any legal practitioner or law student, but for every individual also. it is imperative to stand for your rights and ensure each human lives with complete dignity and respect. This is where our legal system ensures these rights are understood and easily accessible for anyone looking to understand the same.
14. Case Studies
Case studies are an important source of understanding tactics and strategies to handle and prepare for different types of complex cases, especially criminal cases. There have been a lot of cases that got popularity for their complex and most petrifying stories (factful). Some of these include The Tarakeswar affair (1874), The Murder of Ghosts – Ram Bahadur Thapa (1959), The Nanavati murder case (1959), The contract killing of Mrs. Vidya Jain (1967), Tandoor murders (1995), The murder of Neeraj Grover (2008), D.K. Basu and custodial deaths, Renuka Shinde and Seema Gavit: Child Killers (1990-1996), The Billa – Ranga Case (1978), The rape of Mathura (1972), Bhanwari Devi rape case (1992) and the most epic–The Nirbhaya gang-rape (2012) [1]
Books that cover these case studies
Understanding different cases, their successes and failures, strategies used and important laws is imperative for any lawyer or a law student not just to understand tactics used by famous lawyers, but also not to miss any important law that can help them win any case. Some of the important and best books on criminal law are available on LexisNexis® online bookstore which can help legal practitioners gain knowledge on important cases, develop strategies and prepare for a winning case.
15. Self-Help Books for Legal Procedures
Legal procedures exist because there is a need to create a fair environment where not just the legal authorities, and government systems, but also the citizens realize their rights and obligations. these procedures help to create systems required to define legal actions and how they must be practiced when required. Indian legal system follows a hybrid model that includes civil law, common law, equitable law, and customary & religious laws.
Best self-help books for legal procedures
Finding self-help books on any topic, genre, or case type related to legal procedures is now a piece of cake with LexisNexis KnowlEdge® and LexisNexis Advance® online libraries that use AI for easy navigation, saving searches, and researches for creating an efficient roadmap for better case preparation.
16. Books on Criminal Psychology
Criminological psychology or the study of criminal psychology talks about various aspects of a criminal mind that includes an understanding of the psyche, mental stability, mental issues, views, thoughts that create their intentions, later actions, and expected reactions of criminals and suspects. This study helps lawyers and legal practitioners like policemen, judges, and people involved in criminal cases to think like a criminal and predict their next course of action. Understanding this psychology also helps to identify the root cause of a case and get to a fair conclusion.
Best books on criminal psychology
Best book on criminal psychology is available on LexisNexis® online bookstore that talks about different perspectives of criminal behaviour, how these perspectives have developed over time, the foundations of criminology and more.
17. Books on Forensic Science
When talking about any criminal case, forensics plays an important role in the investigation. Forensic science is the science that helps to investigate crimes or examine pieces of evidence that can be critical to any case and are eligible to be presented in a court of law. Understanding this science, its evolution, and what kind of science can be critical to any case is important for any lawyer, or judge is important so they can cross-examine the evidence and also help bring justice to the victims.
Best books on forensic science
Various books on forensic science cover major aspects of forensic research, famous cases, and how forensic science practices can change the result of any case by providing useful evidence in the court of law. These books are important to gain insights into different kinds of tests required while examining any crime scene or evidence. This understanding is very important for anyone involved in criminal cases including lawyers, policemen, judges, and more.
18. Books on Legal Writing
Legal writing is basically the documentation of any kind of communication that happens between two or more people, corporates, or in a court of law. Legal writing in courts majorly includes documentation of conversations or judgments between the judge & the jury, the judge & advocate, and the counsel & their client (both parties).
Best books on legal writing
Understanding legal writing can help get to the roots of legal documentation, understanding and using appropriate vocabulary that is admissible in the court of law, can be understood by everyone involved in the case, and helps to establish a common language that can help reach better results.
Conclusion
LexisNexis India has some of the best books on criminal law that can provide a detailed explanation of courtroom procedures and the criminal justice system. These books can help you gain a better understanding of the roles, processes, duties, rights, and obligations of citizens and different legal practitioners in the criminal justice system, such as judges, prosecutors, defence attorneys, and juries.
Latest Blogs